You are here
»
»
PORT SAFETY: THE ABIDJAN PORT CARRIED OUT ITS ANNUAL EXERCISE
Back to top
PORT SAFETY: THE ABIDJAN PORT CARRIED OUT ITS ANNUAL EXERCISE
Error message
Notice: Undefined index: main-menu in menu_block_view() (line 510 of /var/www/vhosts/portabidjan.ci/httpdocs/modules/menu/menu.module).
Notice: Undefined index: main-menu in menu_block_view() (line 510 of /var/www/vhosts/portabidjan.ci/httpdocs/modules/menu/menu.module).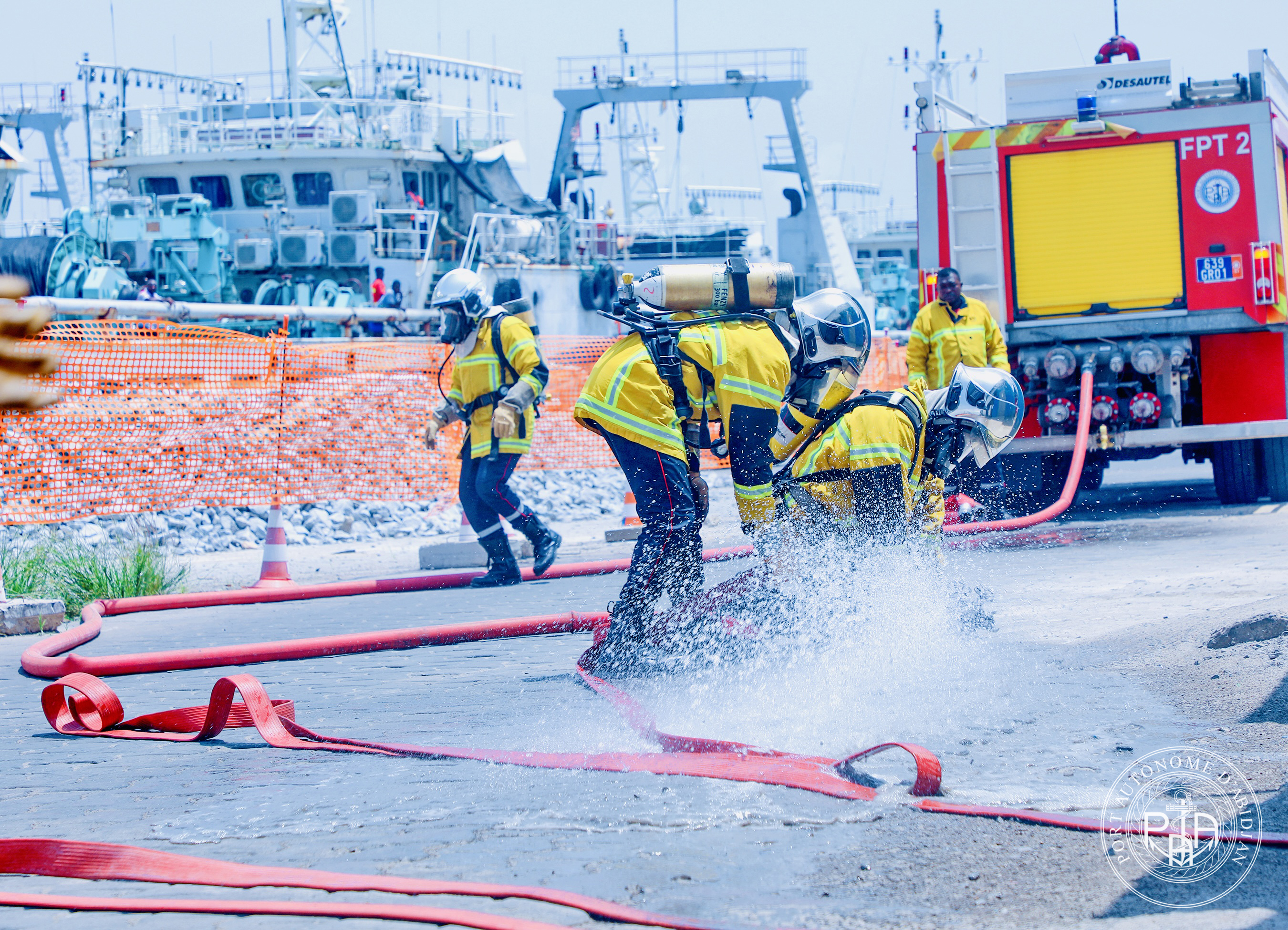 Sécurité maritime
PORT SAFETY: THE ABIDJAN PORT CARRIED OUT ITS ANNUAL EXERCISE
Tuesday 28 March 2023
This Thursday 13 October 2022, the Abidjan Port was on alert. The reason for this was the organization of a full-scale security exercise on the site of the Fishing Terminal.
This simulation exercise, for which significant human and material resources were deployed, was carried out under the General Direction of Maritime and Port Affairs (DGAMP), with the involvement of all the actors of the port platform responsible for safety and security, namely the Harbor Master's Office, the Police, the Gendarmerie, the Fire Department, Customs, Port Security and many others.
Security experts from the WeCAPS project as well as several external partners also took part in the test as observers.
According to the organizers, this simulation is part of the implementation of preventive actions required by the provisions of the ISPS Code, which is the international standard for the security of ships and port facilities.
The scenario of this annual exercise 2022 consisted in simulating an attack by unidentified armed individuals on the mole of the Fishing Terminal, with the intention of committing acts of robbery on suspicious containers stored on this site, under the surveillance of Customs services.
The main objective was to test the capacity of the actors in charge of security and safety at the Port of Abidjan to react in a major crisis situation, through the effectiveness of the crisis unit, the proper coordination of actions in the theater of operations, and communication management.
The exercise was also a good opportunity to assess the quality of equipment and human resources available to deal with any eventuality.
The stakeholders passed this test with flying colors, as indicated by all the observers present during the debriefing session that followed the end of the exercise.
 To this effect, a satisfaction was given by the DGAMP whose representative gave certificates attesting to the effectiveness of the realization of the exercise, to the main actors that are the (PAA), the Company Academy of Professional Security (ASP-CI) and the project WeCAPS.
It should be noted that the Abidjan Port has been certified to ISPS Code standards since 2004. Thus, through this type of annual and full-scale exercise, the Port Authority ensures the implementation of measures described in its safety and security plan, to maintain this certification which is now an important factor of competitiveness in the port sector.