You are here
Back to top
Installations et activites
In the perspective of a better rationalization of the wharves with a view to optimizing operational yields, the Port Authority of Abidjan has embarked on a strategy of specialization of the wharves, which gives it today port performances which reach the level global standards..
The container terminal
This terminal has the following characteristics:
The port of Abidjan, the largest capacity on the West African coast
4
PORCLES
WITH A LIFTING CAPACITY
OF AT LEAST
40
TONS
CHACUN
60
TONS
for the 4th gantry
2
MOBILE CRUISE
LIFTING CAPACITY OF
100
TONS
EACH
1 000 000
STORAGE CAPACITY CONTAINERS
Thus, thanks to these installations and equipment and the existence of a GPS system for fleet management, the Vridi Container Terminal achieves handling rates of around 60 movements per hour per gantry. This performance, which is comparable to that achieved in some major European ports on the main shipping lines, has enabled the Container Terminal to obtain the triple certification to Health, Safety and Environment quality standards:
ISO 9001 : 2000
ISO 14001 : 2004
OHSAS 18001 : 1999.
Outside the Container Terminal, the Port of Abidjan
has other specialized terminals including:
1
Fruit terminal
Process an average of 250,000 tonnes of fruit per year;
2
A grain terminal
Process an average of 250,000 tonnes of fruit per year;
3
A ro-ro terminal
As part of the rational management of wharves and in order to enable port operators to deal efficiently with certain types of traffic, particularly vehicles, Port of Abidjan has a ro-ro terminal.
4
An oil terminal
With an offshore buoy station capable of handling vessels of more than 250 000 tonnes without limitation of draft, two stations for loading and unloading petroleum products connected to the Ivory Coast Refining Company's pipeline facilities and five piers.
5
A ship repair yard
With several workshops that can repair any type of ship.
6
A terminal dedicated to sausages and the conventional
The Port of Abidjan has bagging machines for flour, fertilizer and rice. The rate is 2,000 to 5,000 tonnes per day. An oil terminal
The fishing terminal of Abidjan offers the following amenities to its users
More than 1500 meters of dock with drafts of up to 9 meters
Three berths on trunk
A sorting and auction hall of 7860 m²
Complete shore-side equipment (water, electricity, gas oil, cold stores, etc.)
Sea products processing units
An ice factory unit
A fishing nets production unit
A fishmeal production unit
Refrigerated warehouses with a total capacity of more than 60,000 T including about 20,000 T in bonded zone.
21,000 m² of landfills for repairing fishing nets
A covered fish market
A weighbridge
The fishing terminal is also a capacity of 15 vessels at the dock in simultaneous operations.
All these facilities and infrastructures give it an honorable place at the international level:
The port of Abidjan, the largest capacity on the West African coast
21 000
m2
GROUND-FULL FOR
REPAIR OF FISHING NETS
SIMULTANEOUS COMMERCIAL
OPERATING VESSELS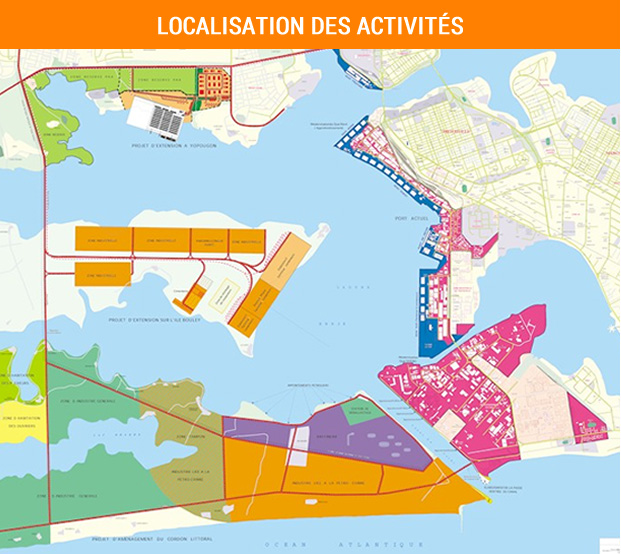 For a rational management, the Harbor Domain is subdivided in seven (07) zones of following activities:
The Old Port Zone composed of a Fruit Terminal and a Wood Terminal
Warehouse Zone consists of stores, includes the activities of handling and storage of raw materials for export, various service activities;
The Fishing Port Zone includes cold stores and all activities related to fishing: processing, conservation of fish products, bunkering, restaurants
The Warehouse Zone of the Vridi Dyke consists of warehouses, agricultural products, general merchandise and the Vridi Container Terminal (T.C.V);
Naval Industries Zone of Vridi, for workshops and naval activities;
The Industrial Zone of Vridi, for chemical and petrochemical, agro-food, metallurgical, electrical activities ...;
The Vridi area, for housing and tourist activities.
OUR IMAGE FACILITIES
Abonnez vous à notre Newsletter