You are here
»
»
THE MANAGING DIRECTOR OF ABIDJAN PORT AUTHORITY MADE A PRESENTATION OF THE ABIDJAN PORT POTENTIALITIES TO HER ROYAL HIGHNESS PRINCESS ASTRID OF BELGIUM
Back to top
THE MANAGING DIRECTOR OF ABIDJAN PORT AUTHORITY MADE A PRESENTATION OF THE ABIDJAN PORT POTENTIALITIES TO HER ROYAL HIGHNESS PRINCESS ASTRID OF BELGIUM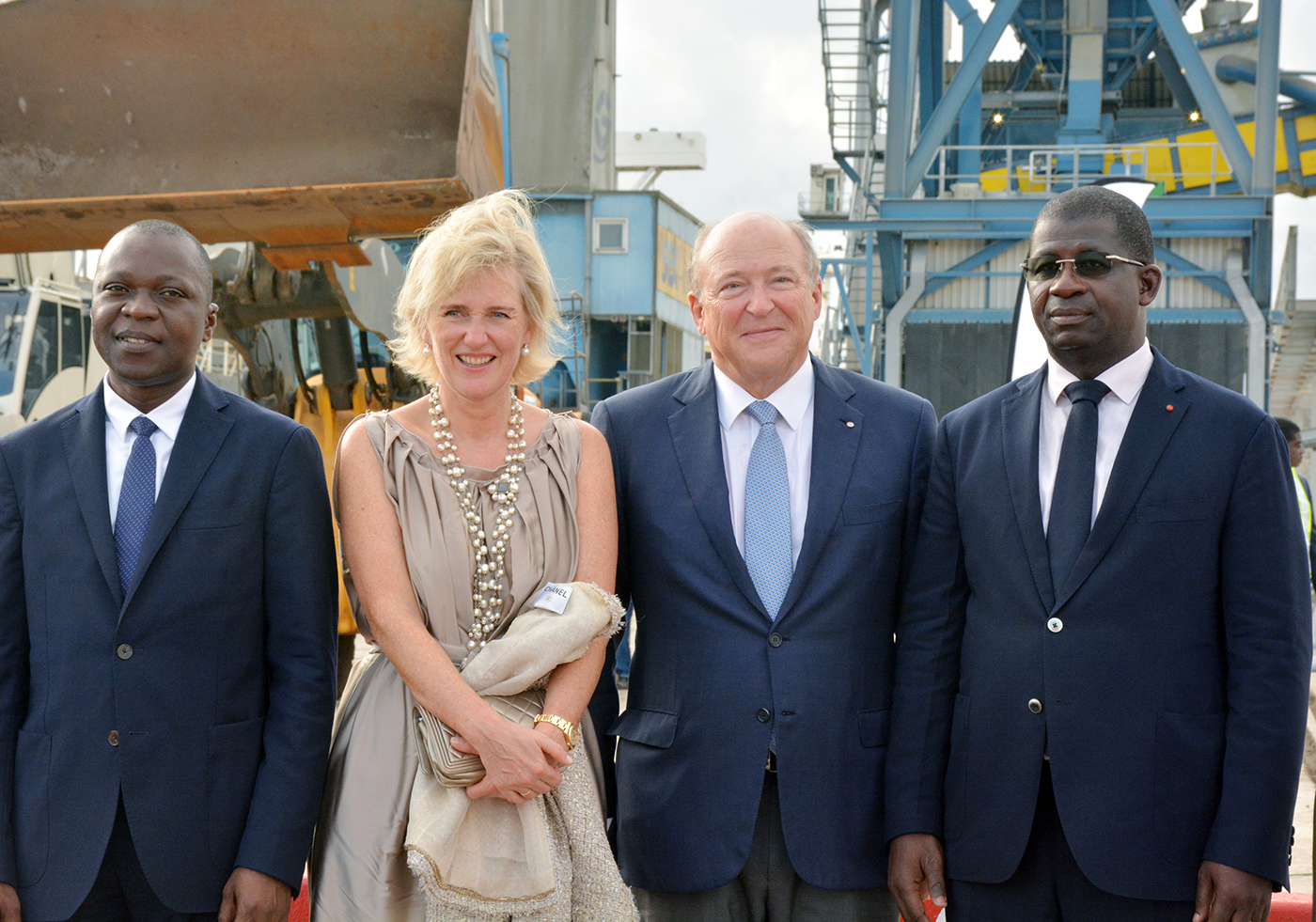 Visite de travail
THE MANAGING DIRECTOR OF ABIDJAN PORT AUTHORITY MADE A PRESENTATION OF THE ABIDJAN PORT POTENTIALITIES TO HER ROYAL HIGHNESS PRINCESS ASTRID OF BELGIUM
Monday 30 October 2017
On Tuesday 24 October 2017, Her royal Highness Princess Astrid of Belgium paid a visit to Abidjan Port.
Mr. Hien Yacouba SIE Managing Director of PAA and the officials of Sea Invest (a Belgian Company) welcomed her Highness on the Abidjan Port's Mineral Terminal and then made a presentation of Abidjan Port, its potentialities, its weight in the Ivorian Economy, Its development projects etc...
The Abidjan Port Authority's Top Manager also presented to his renowned guest the weight of Commercial trade between Abidjan Port and Belgian Ports, namely Port of Antwerp, and expressed his wishes for the strengthening of interport and economic cooperation between Belgium and Côte d'Ivoire.
Mr. Amadou KONE, Ivorian Minister of Transports, representing his Excellency Amadou Gon COULIBALY, Prime Minister, Minister of State's Portofolio and Budget, Head of Government, praised Belgium's interest to attend Côte d'Ivoire in backing its efforts for competitiveness. while expressing his appreciation of Belgium Investments already carried out in Côte d'Ivoire , the Minister of Transport also wished for a strengthening  of Ivoiro-Belgian Cooperation in a win-win partnership and invited the Belgian companies to seize investment opportunities  provided by Ivorian ports.
 It is worth noting that the visit took place in the presence of the Belgium's Minister of Mobility and Public Works, of their Excellencies, Ambassador of Belgium to Côte d'Ivoire, Ambassador of Côte d'Ivoire to Belgium, officials of Sea Invest and a large delegation of Belgian Companies. With the visit of her Highness, the Managing Director of PAA granted an audience in the morning of 24th October 2017 to several Belgian companies, among others, Jan Del Nul, Tractebel Engineering, Dredging International, Stratec, Widra as well as Port of Ghent